Proudly Serving St Clair, Sanilac, Macomb, and Lapeer Counties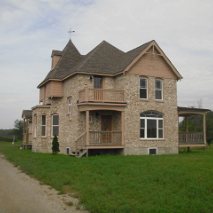 At Capital Home Inspections, we are committed to helping our clients make informed decisions by providing thorough, unbiased and professional home inspections. The last thing you want is to move into a home or condo unaware of potential problems that could be costly to repair or, worse, beyond repair.
That's why its critical to choose a service like ours. We have over 50 years combined experience building homes from the ground up as well as the training to know exactly what to look out for. If there are problems, we'll find them for you.
Why bother with a home inspection?
Every dream house can quickly turn into a financial nightmare. The faulty components and structural defects you indirectly choose to ignore by foregoing a home inspection can come back to haunt you even 15 or 20 years down the line. Buying a home is a huge investment. Capital Home Inspection wants to ensure its also one of the smartest moves you'll ever make.
How We Can Help You


Our inspections enable you to take control of your real estate transaction by helping you:
* Identify potential problems
* Separate typical problems from major problems
* Give cost estimates so you can budget for repairs.
* Budget for future repairs and upgrades
* Take measure of your investment decision
* Have confidence in buying your home.
We Work ONLY For You
Property inspection is our only business. We are impartial and work only for you. Our job is to provide you with a comprehensive, fair, independent, objective evaluation so that you can understand and take care of what is most likely the largest investment you will make in a lifetime.
What To Expect


The inspection provides an invaluable learning and discovery experience during which your questions can be answered on the spot. We are different than the majority of our competition because we encourage you to attend the inspection. Feel free to follow us through the inspection asking as many questions as you like. Before the inspection is complete you will know how to shut off water, electricity and gas if there is an emergency. As the inspection is being conducted there will be multiple pictures taken with a digital camera. The pictures will be pulled up on a laptop computer on site with a complete report done with you there. A typical home inspection will take between 2 to 3 1/2 hours to complete. We DO NOT put time limits on the inspection. We will stay on site as long as it takes for you to feel comfortable with your inspection and have all your questions answered.